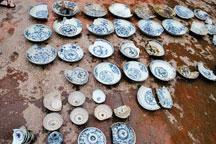 May 6, 2011
--China's cultural authorities are tightening safety supervision over the nation's vast number of marine heritage sites, but experts warn that a lack of professional staff and public awareness may slow down efforts to save underwater treasures.
The State Administration of Cultural Heritage (SACH) has announced a pilot program to monitor
marine heritage sites in China's coastal provinces
, and intend to recruit local authorities to provide long-term protection, China National Radio reported Tuesday.
Non-stop radar scanning and ocean monitoring will be implemented by local marine police to prevent suspicious vessels from entering protected waters, the report said, without giving details of the locations of protected sites.
According to preliminary surveys, China has more than 200 marine heritage sites, some 70 of which are shipwrecks of great archaeological value.
Pu Gong, a Guangzhou-based researcher, admitted that the move has been prompted by the seriousness of illegal salvage. The pillaging of underwater sites has become so common that sometimes archaeologists discover a site long after robbers have already ransacked it, according to the report.
Read More:
Authorities Take Steps to Protect Underwater Heritage in China