We're all familiar with the gorilla Koko. I grew up in elementary school, middle school, and high school science classes, watching documentaries and reading about this linguistically enabled gorilla, raised in captivity by Penny Patterson. Koko is a lowland gorilla born in 1971 and at the tender age of one, started The
Gorilla Language Project
with his teachers.
During the course of the study, Koko has advanced further with language than any other non-human. Koko has a working vocabulary of over 1000 signs. Koko understands approximately 2,000 words of spoken English. Koko initiates the majority of conversations with her human companions and typically constructs statements averaging three to six words. Koko has a tested IQ of between 70 and 95 on a human scale, where 100 is considered "normal." Michael, the male silverback gorilla who grew up with Koko, had a working vocabulary of over 600 signs.
Studying gorilla intelligence and behavior will lead to a greater understanding of the species' physical and psychological needs. Only through knowledge can humans take the necessary steps to improve the treatment of captive gorillas and protect free-living gorillas from extinction.~Gorilla Foundation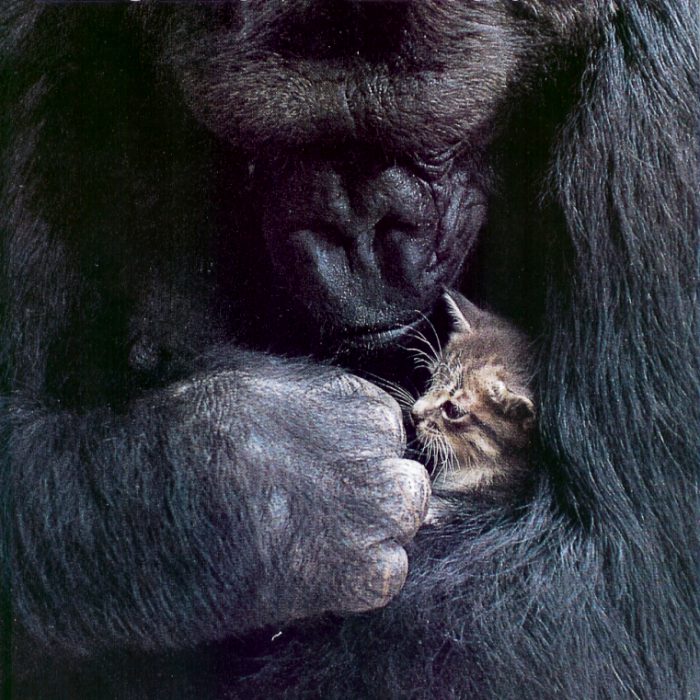 The amount of effort and research
Penny Patterson
has completed is astounding, giving us incite into the incredible world of the lowland gorilla. There are, however, several critics of her style, even saying she's molding Koko to be more humanlike, when in actuality, this is virtually impossible.
I recently watched the movie entitled "
Conversation with Koko
" which follows Penny Patterson and Koko through a rigorous and daunting anthropological study. I have also read an article by Rebecca Bishop, who has her own incites on the practices used to educate Koko.
Conversation with Koko
The film about Koko features on Penny Patterson's works, arriving at the conclusion that Koko has a strong sense of self, ego, can be silly, has a sense of humor, and can be stubborn when exchanging information. Patterson believes a relationship based on trust, love, and respect can assist humans in evolving gorillas to become more human. "We are one in the same. We are apes. It's a surface thing. They are like us inside."
According to Bishop, this act of gendering and communicating with apes is not a new concept. In fact, it has an interesting resonance with the historical visions of subjects that exist at the edge of animality and the periphery of the human (2010). The Great ape has always assumed a role of the betwixt and between status of EuroWestern imaginary.
Koko is a product of nature and years of evolution, marked by a politics of gender. Bishop further explains that Koko's affect and desire is always ascribed a historically feminine line of flight, her behaviors and communication. Actions are represented in the context of historical conceptions of gendered subjecthood and assumptions. This subjecthood is inherently tied up in historical discourses, whereby an animal is being forced to assume a new role, or a new species.
When animals are culturally confined to an area, just like any psychological experiment, the subject will never act as normal as they would in their own environment. Furthermore, Koko's actions will be attributed to a motivation and purpose that fits within a broader conception of females.
According to Bishop, "some have accused the researchers of conducting a populist and sensationalistic science, an 'academic Barnum and Bailey act' without strict methodological criteria" (2010).
Researchers were in fact treating the subject (Koko) like a humanized child, whose role is to assume language capabilities and behaviors at a certain age, evoking the same thoughts of twentieth century experiments. Furthermore, researchers are assigning gender roles to Koko; behaviors a culture assigns to the sexes.
In sum, Bishop concludes Koko's actions are ascribed and based upon gendered assumptions that her researchers have chosen for her.
Does this change your opinion of Penny Patterson's work? Why or why not?
Sources